Iveta Angelova
My work
About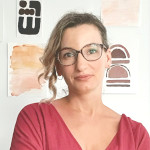 My name is Iveta Angelova (Ивета Ангелова) and I am a free-lance graphic designer and vector illustrator. Born in Bulgaria, I moved to Italy in 2005 and have been living in Spain since 2007. Though I majored in Economics, my real passion has always been art.
My approach is based on hand drawn elements and textures, mainly neutral color palettes, black and white with a pop of color, as well as typographic experimentation to create elegant, modern artwork. I am always on the search for new ideas and sources of inspiration.
Shop
License Images

If you need to license images for your project and have a subscription on any of these agencies, just follow the links.

Direct Licensing

If you prefer to license an image directly from me, just fill in the contact form and let me know what image and format you need.

Printed Products

If you like my designs, you can find them on lots of printed products, such as t-shirts, phone and laptop cases, wall art, greeting cards, etc.
Contact